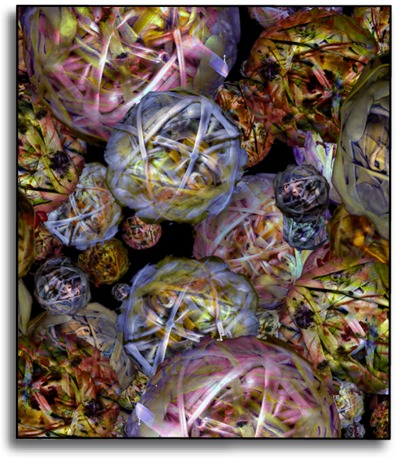 Photo by Psyberartist, Creative Commons
If you've been keeping up with my Year of Insane, Ridiculous, and Nonsensical Challenges, you've seen that I'm attempting to write 78 short stories, a novel, a screenplay, plus finish up the two novels that I started last year. If all goes well, I'll clock in about 300,000 words total, which seems pretty close to approaching prolific. It's a title I crave, and I'm probably not alone in this.
I recently read this article at io9 about the 12 Secrets To Being A Super-Prolific Short-Story Writer. Basically, it boils down to writing a lot, learning, experimenting, and writing some more. But it got me thinking about what writers can do to be more prolific outside of the actual physical task of writing.
1. Know what you write. Writing what you know won't get you very far if you intend to be prolific. You'll end up writing yourself in a circle, producing the same stories over and over again. Knowing what you write, however, opens up infinite worlds and possibilities for stories. But don't limit yourself to internet research. If your character practices yoga, take a class. If you've got a character who rides horses (or even a dragon for that matter), take some riding lessons and keep your writer's mind open for sights, sounds, and smells that could give your story more texture.
One of my writer pals, Sylvia Spruck Wrigley, has even gone as far as to request a tour of a sewer since the London sewer network figures heavily into her novel. Image how much of an eye opener that would be, plus you get the added benefit of building up a wealth of "crazy author stories" in case anyone ever doubts the lengths you'll go through for your craft.
2. Plot In the Shower. A lot of writing can consist of staring at a blank screen, waiting for inspiration to strike. This is a waste of time since the hours we have to physically sit down and write are limited. Use those quiet little moments you have to yourself to think through your characters and plot points–like while you're in the shower, walking the dog, doing the dishes, or during down time at the day job. And when you finally sit down to write, the words will be able to flow.
But beware of turning into Author Zombie. If your best friend is bawling over the phone about how she and her significant other just split up, and all you can think is how perfectly her overly emotional dialogue would fit into chapter twelve when your main character finds out that her boyfriend is two-timing her with a sexy vampire, then maybe it's time to ease off a bit and spend more quality time in the real world.
3. Don't revise. We've all seen Heinlein's 5 tips for writing:
You must write.
You must finish what you write.
You must refrain from rewriting, except to editorial order.
You must put the work on the market.
You must keep the work on the market until it is sold.
Nearly everyone I've seen quote these rules has an issue with point #3, because a story can always be better with a little more editing, right? But that's exactly the pitfall. It's easy to get sucked into the trap of making a story better in increments, but if you spend just an hour tweaking your story each time it gets rejected, after five or six rejections, that adds up to 6 hours which you could have spent working on a new story. Spread that over a year's worth of stories, and you could be cutting your productivity in half.
Plus there are additional downsides to constantly revising. One, the story might have nothing wrong with it at all, and it just hasn't found the right market yet. Two, the story is so inherently flawed that no amount of tweaking will fix it. And three, if you're subscribing to the top-down methodology for submissions, you've probably already exhausted most of the pro-paying markets, so your monetary payoff for the extra effort will likely be minimal.
This doesn't mean that you should send out draft material or that stories don't need to be edited at all. It only means that once you have deemed a story fit to see the light of day, it needs to sink or swim on it's own merit. (And yes, this is easier said than done.)
4. Read. This one sort of goes without saying. If you want to write, you need to read. But the benefits of reading go beyond learning more about craft. Books open your mind to new ideas, which in a way is similar to my number one point, only if you read widely and deeply, you'll start scratch the surface of knowing exactly how much you don't know. And knowing is half the battle. Go Joe!
5. Stop thinking about writing. This one I'm horribly guilty of. If I could add up the hours I've spent thinking about writing, I could probably have used that time to write at least three or four more novels. This is not the same as thinking about your novel, trying to figure out plot or come up with character quirks. This is about the time spent dealing with things tangential to writing–like worrying about where your career is compared to where you want it to be, prowling writing sites to commiserate about rejection, reading articles on writing rules that you know backward and forward, and of course spending hours putting together gimmicky blog posts on being prolific when your time would be better spent working on your actual novel.
Ahem.
But while we're here, what does being prolific mean to you? Is it something you strive for? Or do you have better things to do with your time?