The Prey of Gods
The Prey of Gods is getting all kinds of love! It's been a wild ride so far, and if you want to jump on this roller-coaster of weird, I've got a place for you right up front. It's Won the RT Reviewers Choice Award for Science Fiction and Fantasy and the Compton Crook Award!
I'm ramping up for contests and book giveaways, so sign up for my newsletter now, so you won't miss out on the fun!
See what people are saying:
New York Times | Wall Street Journal | Washington Post
Available at Amazon, Barnes & Noble, and Indiebound
Read the Chapter 1 Excerpt here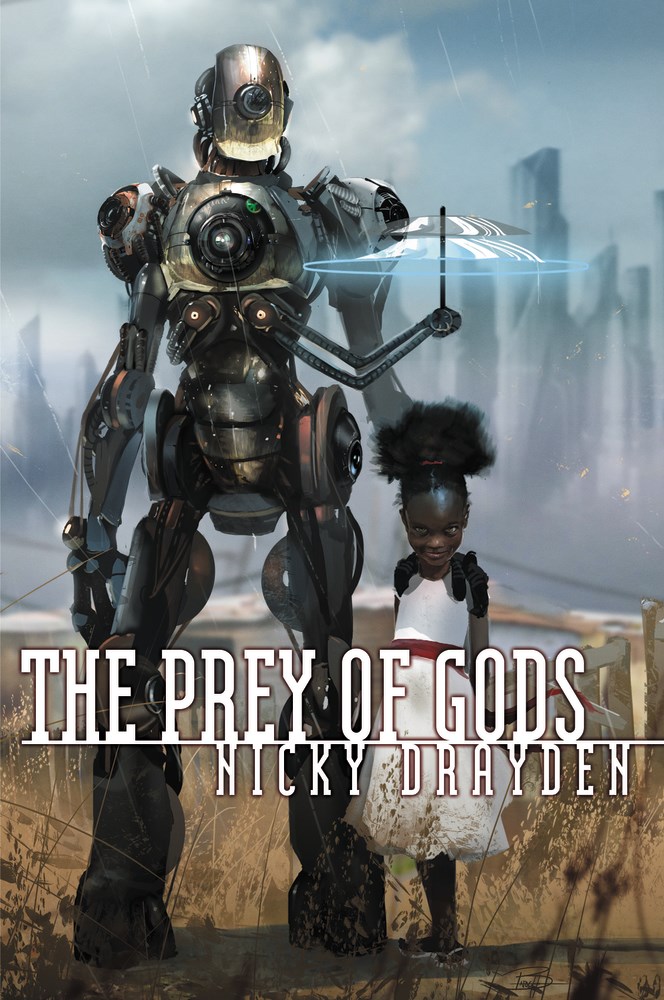 Artwork by Brenoch Adams, cover design by Owen Corrigan.
THE PREY OF GODS is a near future thriller set in South Africa in which a diverse set of characters imbued with supernatural abilities by a street drug called Godsend must band together against a disenfranchised goddess who intends to remake their world and change the fate of humanity forever.
Praise for the book:
"Drayden's first novel is set in a near future with personal robots, making the magical elements unusual yet effective. VERDICT Fans of Lauren Beukes and N.K. Jemisin will want to check out this winning mashup that mixes genres and moods with gleeful abandon, heralding a fresh new talent."
-Library Journal (Starred Review!)
"Nicky Drayden's debut novel "The Prey of Gods" (Harper Voyager) is delightfully unlike most science fiction out there. Drayden mixes folklore, urban fantasy and science fiction in her futuristic South Africa to dazzling effect."
-Washington Post, Best science fiction and fantasy books to read this month
"You'll need to clear your schedule as soon as you get your hands on a copy of Drayden's debut novel!…Drayden has certainly made herself an author to watch out for."
-Romantic Times, 4 1/2 stars (Top Pick!)
"The Prey of Gods is original, exciting, a fast-paced story with an emotional depth that connects you to the rich cast of characters.  It's a fabulous debut from an author I hope to see much, much more from."
-Martha Wells, author of The Books of the Raksura and The Murderbot Diaries


TEMPER
TEMPER is a tale of twin brothers and their adventures as they set out to battle their demons, both literally and figuratively, while also navigating an oppressive culture where a person's worth is determined by the virtues and vices assigned to them as a mere child. This genre-blending dark fantasy set in an alternate Cape Town is both harrowing and humorous, and is riddled with mysteries and secrets at every turn.
It was chosen as Publishers Weekly Best Science Fiction and Fantasy of 2018!
Available at Amazon and Barnes and Noble or your local indie.