The Prey of Gods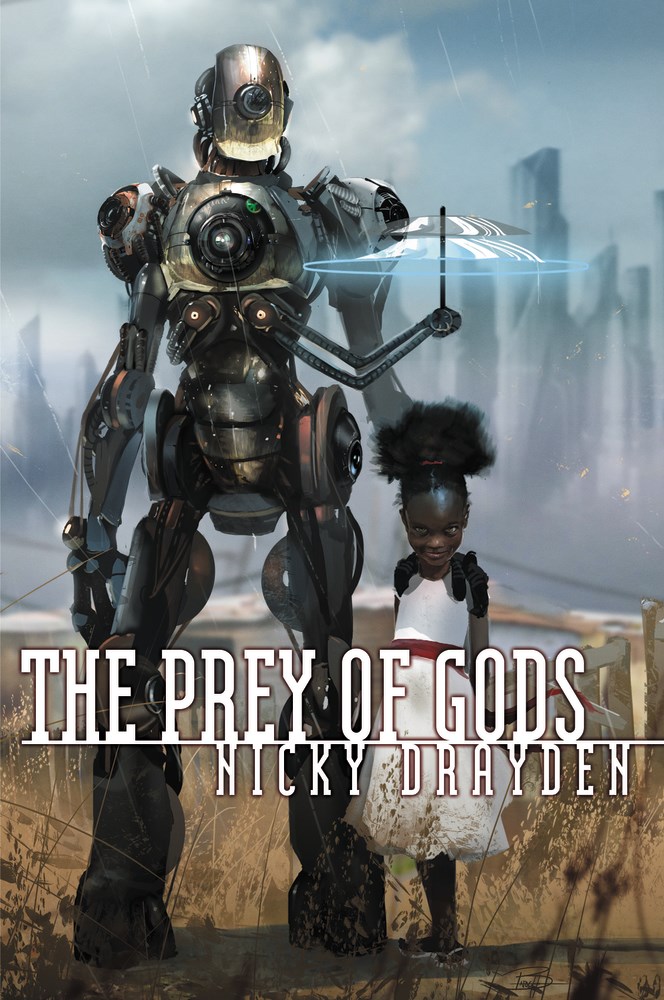 June 2017, from Harper Voyager
Artwork by Brenoch Adams, cover design by Owen Corrigan.

In South Africa, the future looks promising. Personal robots are making life easier for the working class. The government is harnessing renewable energy to provide infrastructure for the poor. And in the bustling coastal town of Port Elizabeth, the economy is booming thanks to the genetic engineering industry which has found a welcome home there. Yes—the days to come are looking very good for South Africans. That is, if they can survive the present challenges:
A new hallucinogenic drug sweeping the country…
An emerging AI uprising…
And an ancient demigoddess hellbent on regaining her former status by preying on the blood and sweat (but mostly blood) of every human she encounters.
It's up to a young Zulu girl powerful enough to destroy her entire township, a queer teen plagued with the ability to control minds, a pop diva with serious daddy issues, and a politician with even more serious mommy issues to band together to ensure there's a future left to worry about.
Fun and fantastic, Nicky Drayden takes her brilliance as a short story writer and weaves together an elaborate tale that will capture your heart, even as one particular demigoddess threatens to rip it out.
---
Praise for the book:
"You'll need to clear your schedule as soon as you get your hands on a copy of Drayden's debut novel!…Drayden has certainly made herself an author to watch out for."
-Romantic Times, 4 1/2 stars (Top Pick!))
"The Prey of Gods is original, exciting, a fast-paced story with an emotional depth that connects you to the rich cast of characters.  It's a fabulous debut from an author I hope to see much, much more from."
-Martha Wells, author of The Books of the Raksura and The Murderbot Diaries
"Prey of Gods delivers on every promise in beautifully unexpected ways that leave you breathless, a little dizzy, and wanting more…Exquisite, fast-paced, and excellent fun."
-Fran Wilde, award-winning author of Updraft, Cloudbound, and Horizon
"Ancient gods, gene-tech, and gripping action – I love so much about this book."
-Cat Rambo, author of Beasts of Tabat and Neither Here Nor There
"The Prey of Gods is an ambitious blend of folklore, bioengineering, and science fiction… With luck, readers will remember Drayden's novel when nomination season rolls around."
-Steven Silver — SFSite
---
Chapter One Excerpt
Read it here.

More about the novel:
THE PREY OF GODS started as my National Novel Writing Month project way back in 2009. It's a near future thriller set in South Africa, and features a diverse set of characters who discover they have special godlike powers and must team up against a disenfranchised demigoddess who's intent on remaking their world. The main characters include a wayward teen whose grandfather is pressuring him into ritual circumcision, a neglected township girl who's discovered she can fly, a robot on the cusp of sentience, plus a cross-dressing politician, and a raunchy pop diva who all find that they are not the people they thought themselves to be.
The initial concept came to me after reading Ian McDonald's River of Gods, which is set in a futuristic India. I'd been to Port Elizabeth, South Africa back when I was in college, and I thought it'd be interesting to imagine how the experiences I had there could translate into a work of speculative fiction. Many of the highlights from my visit are featured in the book, for example, we toured some of the rural townships where people live in tin shanties, met teenaged boys who had recently gone through the circumcision rite, and visited a couple wildlife preserves. And it seemed like everywhere we went, there were these little cute antelopes called dik-diks rummaging around the city, kind of in a similar way some places have deer overpopulation problems, so those things all got worked into the book. It was a lot of fun to relive my memories through my writing and to project how South Africa's unique challenges and strengths would intersect with technological and scientific advancements over the next fifty years.
THE PREY OF GODS is available at booksellers near you!