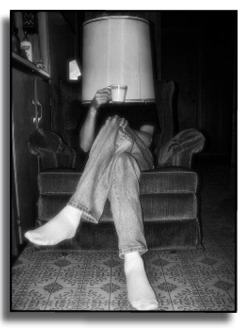 Photo by Derrick Tyson, Creative Commons
2010 was a pretty good year, but I have to be honest…I spent a good chunk of it staring off into space. Not outer space, mind you. That would actually be cool. I've been spending too much time in inner space, the realm between my ears, thinking about whatever aspiring writers think about. Word counts. Rejection slips. Blog posts. Chocolate.
In 2011, I want to do less thinking, because really what is it good for? Doing is better, right? So this coming year, I'm eager to take advantage of my awesome part-time work schedule and fill my days to the brim with ridiculous challenges. Ten of them sounds like a good number, so here they are in no particular order:
1. Write 1, Sub 1 (write and submit one story per week)
2. NaNoWriMo, because is there any other option?
3. Script Frenzy, because the rest of my writing group is doing it, and if they jumped off a bridge, I would too
4. Ride my bicycle every single day
5. Become fluent in Japanese, or at least be able to have a passable conversation
6. Story a Day in May, because sanity is overrated
7. Read 26 novels pulled off the shelves of Half Price Books at random (an author from each letter of the alphabet, different genres, $100 limit)
8. Learn to play an instrument, preferably a sitar if I can afford one (I am completely tone deaf, so this will be much harder than it sounds)
9. I'm pretty sure I'm going to regret this, but I'm going back to being a vegetarian (with exceptions made for turkey jerky, of course)
10. Learn to do a headstand, which probably means I'll need to restart my yoga practice
And not counted in the above list, finishing three other novels that I'm working on in various stages of completion. I think it's pretty doable. I mean, I can always practice my Japanese while doing a headstand, or play my sitar while reading, or figure out a way to rig a laptop to my handlebars so I can write while I ride. Multitasking will definitely be the key to a successful year.