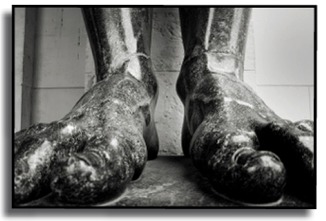 Photo by Quinn Mattingly, Creative Commons
I think I've just figured out the secret to generating interesting story ideas: If one warped imagination is good, then four are better! I got started on my first short story of 2011 today. I went to my usual wikipedia random articles to get some word prompts and came up with:
Fungi (sometimes I wonder if wikipedia is my soul mate)
Ultimate Fighting
Telecommunications
Bolivia
Extra Time
At my usual coffee shop meetup, I was scratching my head about how I was going to put all of these prompts together into an interesting story, but then I realized the answer was sitting right in front of me. I tasked my small group of writer friends to figure out what I should do with these words.
A beautiful brainstorm session happened, and then Emily came up with a premise of communication by foot fungus, and it sort of just spiraled out from there. Bolivian mountains became the setting, and who better to carry a message via foot fungus than an athlete, specifically an Ultimate Fighter? Of course, this message must be of high importance to require such an odd mode of delivery…and what could be more important than the secret of Extra Time here on Earth, or in other words, Immortality. So in about less than three minutes, I had an absurd story idea without putting in any brain power of my own, and all I have to do in exchange is give them a shout out.
Oh yeah, and actually write the story and stuff.
But in any case, Emily, Marta, and Bart…you are much appreciated, and from now on, whenever I think of foot fungus, I'll think of you.